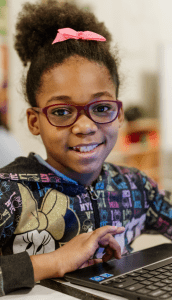 Research shows that the enormous funding gap between schools in Illinois continues to leave schools behind, including schools in North Chicago. North Chicago Community Partners (NCCP) was created in 2008 to help bridge the low income achievement gap in the North Chicago schools so that all students can have access to the high-quality education they deserve. For the past ten years, NCCP and the North Chicago schools have shown how strong, creative public-private partnerships can help improve public schools and ensure equitable educational opportunities for all children.
NCCP started as a bold and inventive idea and has since evolved into a vibrant organization with close to 40 employees.  With the help of our strategic partners and thousands of volunteers, NCCP provides programs and services to all of North Chicago's traditional public schools through our unique "community school model."
A community school is a hub which unites educators, families, and local partners to serve and support children, youth, teachers, and families.  Community schools flourish when high-quality curriculum and instruction are strategically complemented by programs and services that support the whole child and create a positive learning atmosphere.
Working alongside district leadership, NCCP has strategically honed our community school model, customizing it to meet North Chicago's unique needs.