Impact of Community School Model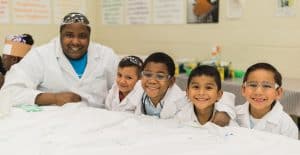 Alongside North Chicago Community Partners (NCCP), the leadership of North Chicago Community Unit School District 187 is committed to ensuring excellent learning opportunities and outcomes for all students.
The district is making a concerted effort to engage qualified and dedicated instructional leaders, to ensure high quality teaching is occurring in every classroom, to sufficiently prepare and equip learning environments and to leverage the expertise within the district, as well as leveraging the expertise within local and national partners. While there is still much work to be done to ensure all students have access to the high quality education they deserve, we are seeing positive gains in long-term indicators.  For example…
As measured by the 5Essentials Survey, the district has shown improvement in four out of five critical supports (effective leaders, collaborative teachers, ambitious instruction and involved families) identified by the University of Chicago Consortium for School Research.
Student academic progress is on the rise; the district improved from the 21st to the 55th percentile in Reading academic growth from 2013 to 2015, and from the 17th to the 55th percentile in Math academic growth from 2013 to 2016, as measured by the NWEA MAP assessment.
On average, attendance rates are increasing and average daily attendance at all K-8 schools was between 93-94% during 2015-2016.  Average daily attendance at the high school was 86% (versus 75% in 2011).
Four-year high school graduation rate increased from 50% (2010-2011) to 64% (2015-2016).  This increase happened while also increasing the rigor of graduation requirements from 20 to 24 credits.
Students attending the new Green Bay Early Childhood Center are showing significant progress in Language, Social-Emotional, Literacy, and Math development
In 2013, 7% of juniors were considered ready for college level coursework.  By 2016, 12% of juniors were considered ready for college level coursework.
On average, days of instruction lost to suspension are decreasing district-wide.
91% of students were compliant with physicals and vaccinations in 2015-2016 versus 72% in 2014-2015.
The renovation of athletic facilities at North Chicago Community High School resulted in increased student participation in competitive sports: Prior to 2013, high school baseball, softball, and track were cancelled due to low participation.  Beginning in 2015, all three sports had full rosters and seasons.  In 2013, there were incomplete rosters for JV and Varsity football.  In 2016, there were complete rosters for Varsity and JV and a freshman team was added. In 2013, high school volleyball had an incomplete roster.  In 2016, high school volleyball had a complete roster for Varsity and JV teams.