Extended Learning and Family Engagement
Extended learning and enrichment opportunities are critical components of North Chicago Community Partners' (NCCP) community school model. These initiatives align with classroom instruction, support student academic achievement, engage families, and help students develop important life skills.
In an attempt to further fill the equity gap, NCCP collaborates with local organizations to provide additional educational enrichment opportunities for students. NCCP introduces its students to corporate environments, college life, cultural resources, and educational content by partnering with strategic entities. In addition,  NCCP has created and currently operates lunchtime learning and after school programs that serve over 1,400 students per week.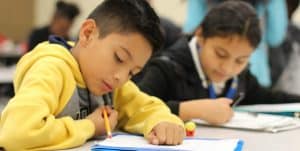 Family involvement shapes a student's experience in school. Not only does family involvement affect grades and test scores, but it also affects attendance, attitude, and behavior. Students who have involved families graduate from high school at higher rates and are more likely to enroll in higher education.  For these reasons, creating meaningful parent collaborations that improve student achievement is a goal for all schools, especially those serving low income and high-risk communities.
NCCP works with principals, teachers, and the broader community to design and implement opportunities for families to engage with the school community. These events occur in the evenings and weekends so that working families may attend.
In 2018-2019, NCCP facilitated or led more than 60 events that allowed over 13,000 guests to engage in their child's education and explore learning in creative ways.