Social & Emotional Enrichment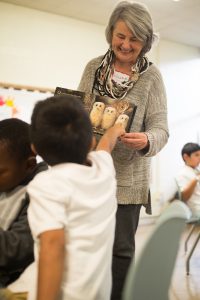 "[One valuable outcome of NCCP is] Closer community! When the parents and students are both engaged, there is a greater chance for a more successful household."-Teacher, North Chicago Community School District 187
North Chicago Community Partners (NCCP) works with school administration, social workers and teachers to create safe and effective school environments that enhance academic performance and make full use of the strong relationship between social emotional learning and student achievement.
NCCP's Student Social and Emotional Support programs strive to address core competencies identified by the Collaborative for Academic, Social and Emotional Learning.  This includes self-awareness, self-management, social awareness, relationship skills and responsible decision making.
Two of NCCP's programs that focus on social and emotional skill development are Quiet Zone and Saturday Enrichment Program.  Both programs provide a "safe" setting for students to interact with positive adult role models, while developing appropriate relationships with their peers.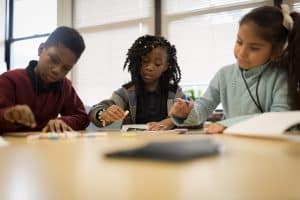 Quiet Zone is offered during lunchtime to students in grades six through twelve.  More than 150 students participate in the program each week, choosing to leave the cafeteria to complete homework, read a book, paint, play a board game, or engage in small-group learning activities.  Middle school students who chose to participate in Saturday Enrichment Program enjoy an assortment of activities, including sports, art, dance and STEM, and practice conversational skills and proper etiquette while sharing a family-style meal.
Read more about our Social and Emotional Enrichment Opportunities for Students: