Extended Learning & Enrichment
"Expanding access to afterschool and other extended learning programs which engage and enrich students will provide many more of our students with firm foundations for success. And it will help reduce stress on many working parents to know their children are safe and supervised." — Dennis Van Roekel, National Education Association President
Extended learning and enrichment opportunities are critical components of North Chicago Community Partners' (NCCP) community school model.  These initiatives align with classroom instruction, support student academic achievement, engage families, and help students develop important life skills.
Academic Lunch Bunch and the After School Enrichment Program are just two of the high-quality instructional programs designed by NCCP to extend learning and provide social and emotional support for students.  In these two programs alone, we serve more than 650 students per week, and every program always has a waitlist for enrollment.
NCCP also provides valuable experiential  enrichment opportunities for students that expose them to new ideas, people and places. More than 500 students each year participate in off-site adventures to local colleges, corporations, art galleries, museums and theatrical performances through NCCP.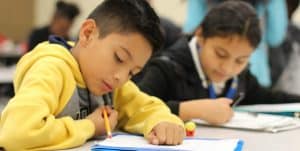 Read more about our Extended Learning and Enrichment Opportunities for Students: