"NCCP is constantly working with our team at AbbVie to create meaningful volunteer opportunities that help make a difference in the community. There's no shortage of wonderful ways to leverage our employees and expertise." - Kim Taylor-Smith, AbbVie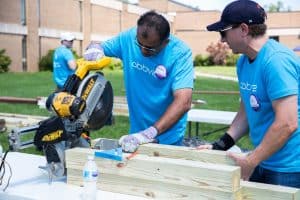 The success of North Chicago Community Partners's (NCCP) programs and our community school model is highly dependent upon leveraging the resources of the broader community and the ongoing contributions of time, talent and treasure of community partners and volunteers.
Each year, we work in collaboration with more than 50 different organizations, including local churches, high schools, colleges, community agencies, cultural groups, and more than 3,500 volunteers to tutor and mentor students, deliver engaging learning and enrichment opportunities, transform school facilities, encourage teachers and support the basic needs of students and families.
Our volunteers come from radically different walks of life, but they are connected by their desire to provide all children with exciting and engaging educational opportunities.  Our volunteers provide over 20,000 hours of service each year, allowing us to implement programs and services that support the unique needs of each community school.
More about our Community Collaboration: