Student and Family Health, Wellness and Care
North Chicago Community Partners provides programs which are intentionally designed to meet the basic needs of students and families, so that students come to school ready to learn. In 2018-19, NCCP distributed more than 2,500 weekend backpacks filled with food and hosted more than 2,500 North Chicago residents at our Family Health and Wellness Open Houses. NCCP coordinates visits to the optometrist and helps students obtain eye glasses as well as plans multiple "pop-up clinics" which in 2018-19 provided vaccinations and physicals to over 250 students. Through our Student Care Closet we provide uniforms, winter wear, hygiene items and school supplies to all students in need.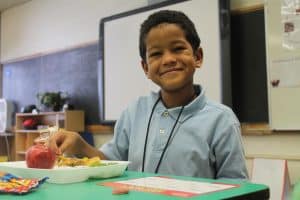 The Family Care Closet, another component of our wellness initiative, helps address the hunger issues of families in the district, and provides them with essential items that cannot be purchased through the Supplemental Nutrition Assistance Program. Families with students currently enrolled in North Chicago's schools are invited to visit the Family Care Closet one time per month or more often if needed. In 2018-19, more than 240 families, took advantage of this school-based resource.