Extended Learning, Enrichment & Family Engagement
Extended learning and enrichment opportunities are critical components of North Chicago Community Partners' community school model. These initiatives align with classroom instruction, support student academic achievement, engage families, and help students develop important life skills. NCCP has created and currently operates a variety of "trademark" programs that served over 1,400 students per week in 2018-19.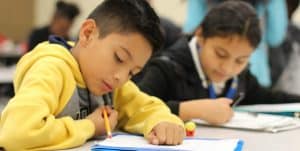 Summarized below are just some of the trademark programs offered by and through NCCP which impacted the lives of students and families during 2018-19.