District Logistical and Operational Support and Strategic Initiatives
NCCP does so many things well – but what really stands out for me is the incredible collection of people who work there. Everyone I've come into contact with at NCCP is energetic, smart, passionate and caring.  Everyone is also expertly trained. Then add to the mix that it's a talent pool that covers the spectrum in terms of perspective, background and experience. Altogether, it's a combination you rarely see – and it makes working with NCCP both impactful and joyful."

Evan Westerfield
Steans Family Foundation
North Chicago Community Partners has been a strategic thought partner and sounding board to District 187 for the past 10 years by providing ongoing strategic planning and operational support. This year NCCP has worked closely with the district leadership and welcomed a new Superintendent to the North Chicago school district. Due to these new working partnerships, the district has experienced greater organizational efficiency and effectiveness, expanded strategic partnerships, and received additional financial support.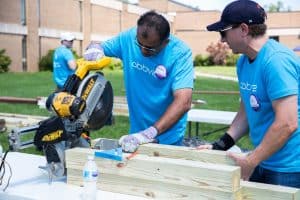 NCCP continues to play an invaluable role in mobilizing resources to transform the North Chicago Public Schools. For example, in 2018, NCCP worked with Christ Church Lake Forest, Discover Financial Services, Lake Forest Academy and Lake Forest College to engage more than 650 volunteers in facilities improvements or student enrichment. activities   NCCP also continues to work closely with AbbVie on planning and executing the annual Week of Possibilities, a week-long service event that transforms the schools and the community at large. In 2018, more than 2,500 Abbvie volunteers participated in the construction or repair of two play grounds, renovations of the North Chicago Community High School and the complete remodel of the athletics concession stand.
The creation and facilitation of large scale service events for strategic partners is a growing component of NCCP's community school model. Through this work, NCCP is able to complete critically needed facilities maintenance and renovation projects for the district, while generating a growing alternative revenue stream and recruiting dedicated volunteers.